Back from a visit with family and friends in "sunny" California, only on this trip there was a lot less sun than usual.  We had over four inches of rain along the Central Coast during my stay, and several overnight lows reached freezing or below—not exactly the balmy conditions one usually associates with that neck of the woods.  On the way down I took Highway 395 along the east side of the Sierra, stopping at the mining ghost town of Bodie, and visiting the late Galen Rowell's Mountain Light gallery in Bishop.  Galen's been gone now for several years, but his images still resonate intensely and the memories of his many achievements continue to be celebrated in reverent style in this very high class and well-managed establishment.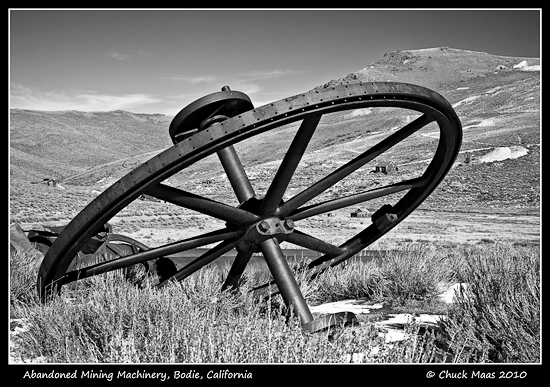 Canon options. For Canon shooters using a 5D Mark II or 7D, Canon is now offering an upgrade (for $100 plus shipping at factory service centers) which will provide a locking mode dial on your camera.  Is this important to you?  If you use more than one body in fast moving situations it's more than probable that sooner or later a camera rubbing against clothing will change the setting on the mode dial without you realizing it and the results can be truly unfortunate.  Think of the dial being bumped from shutter priority to manual with an EV about 10 stops over-exposed while you keep intently shooting.  Not good!  It happened to me with the 7D, and mine's going in soon for the upgrade.
Fuji X100. Here's a little more info on the upcoming Fujifilm FinePix X100 camera.  With a ton of interest in this elegantly retro-styled body with relatively large sensor and single focal length lens, there's a small army waiting anxiously for final production and shipping.  Here's also the link to "What's New" on Fuji's official site.
Printing arcana. This reference will appeal to only a few, but for those who use Photoshop CS5 on Mac and work with print profiling target images, the fact that Adobe removed the option of "no color management" in the printing routine has been something more than an annoyance.  Keith Cooper covers some of the details here in his blog.  Additional discussion can be found at John Nack on Adobe, on the Luminous-Landscape forum, and elsewhere.
Titillations. Rumors are now rapidly surfacing (see this article at SlashGear) as to the probability of Apple using Light Peak in the next MacBook Pro upgrades this spring.  Light Peak is a new optical data transfer technology with the potential to replace USB, FireWire, SATA, and others.  Whether this is just another business oriented end run remains to be seen.  This piece from ZDNet lends a little more background to the process.  In the mean time, USB 3.0 is proliferating rapidly.  Many portable hard drives now on the shelf in stores are native USB 3.0 (which of course is transparently backward compatible with USB 2.0).  Only time will tell whether both connectivity protocols survive.  And of course it should be no surprise that technology marches on whether we like it or not or whether we're ready for it (with an open wallet) or not.  Maybe a significantly faster hardware connection will help push faster internet and cell/WiFi capability too.  Wouldn't that be nice?