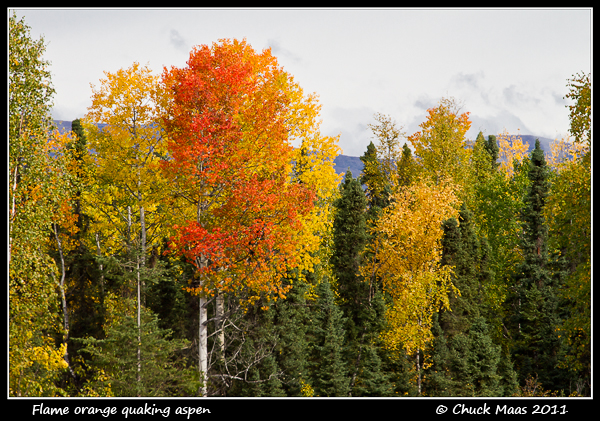 It's autumn here in Southcentral Alaska.  Lots of butter yellow leaves around (at least until the next heavy storm with wind and rain), and a few trees with patches of bright orange too.  It's not the same palette of brilliant reds for which New England is justly famous, but it's pretty nice just the same.
On a broader technological scale, it's also the season for announcements.  Nikon is expected to take the wraps off their entry to the mirrorless segment tomorrow following a barrage of hype.  Hard to tell yet how well the new camera will measure up as a serious photographer's companion, especially since it's strongly rumored to have a somewhat smaller sensor (2.7x crop factor).  Canon is set to announce something of professional caliber on Thursday, though some are guessing it may be a printer, not the highly anticipated 1Ds Mark IV, 5D Mark III, or even what is now hinted at—a new entry-level full frame model (6D?).  And a new indication today that Canon might actually be working on an update to the ubiquitous EF 100-400 zoom lens—a pending patent for an EF 100-400 f/4-5.6L IS.  Note the slightly faster maximum aperture on the short end.  The 100-400 has been a perennially popular lens in the Canon lineup for a lot of good reasons and a whole army of people have been begging for an update for a long time.  This could be very good news.   Those looking for the latest EF 300 f/2.8L IS II supertelephoto lens may be able to find it now at B&H (and perhaps other vendors too).  This stellar optic will now set you back $7,299, thanks to a weak USD.  The 400 f/2.8 II should be available before too long, and the new 500 & 600 by year's end (hopefully).
On other fronts, it's looking more and more like early October will bring some new version (or versions) of the Apple iPhone.  Since smartphones (along with tablets) are becoming thoroughly entrenched as valid photographic tools, both for the many helpful applications and for the built-in comparatively low-resolution cameras, new models spark huge interest.  Indeed the explosion of the mobile arena is rapidly forcing the rethinking of communication concepts and schemes for information distribution.  One of the trends now is creating more discreet sharing mechanisms.  Not everyone desires to be an unabridged open book to the entire planet.  Consider Adobe's Carousel, a method of creating a cloud-based collaborative photo collection limited to a small number of people, but available across all devices—smartphones, tablets, and computers.  Interesting approach.
For those who still use computers and would appreciate faster throughput to and from peripherals, it looks like we're gradually getting closer to wider availability of Thunderbolt-enabled devices.  Some of this is like the chicken or the egg; while Apple was first to market, it's likely that opening the connection method to a wider installed base (read Windows computers) is what it will take for more peripheral manufacturers to see the potential as attractive and get on board.  In the meantime, USB 3.0, though not as fast as Thunderbolt, has become the favored connection protocol for external hard drives.