Seasons. Ready for winter?  This current cold snap in Southcentral is an abrupt reminder of how quickly the seasons can change here in Alaska.  Summer's over, autumn won't be here much longer, and it's time to think cold weather.  Just a few days ago the conditions on the Kenai Peninsula were gorgeous and the low-bush cranberry crop was the best I've ever seen.  I'm sure there are plenty left if you don't mind cool temperatures and can beat the snow that's sure to arrive soon.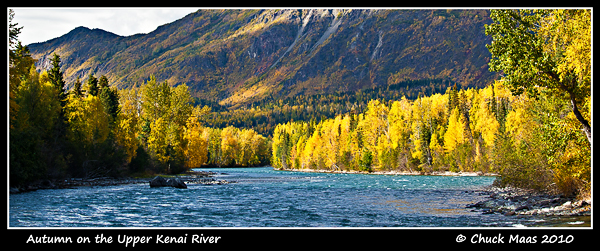 Photokina. Photokina 2010 has come and gone, so the window for big announcements of new/better imaging equipment is likely over for a while.  As usual there were some standout items along with a lot of fanfare regarding new products announced in the run-up of the weeks before the show.  For a couple of event summaries see Mark Dubovoy's blog or DP Review's Show Report.  Here's my take on items of most interest.
Pentax confirms it will begin shipping its 645D medium format DSLR globally in December.  US price for the body only will be a penny less than $10,000.  Yes, this is a whole bag of money…more than about 99.9% of us will be able to find enough excuses to afford.  However, it represents the least expensive high quality digital medium format camera to date.  The 645D has a 40MP integral sensor (not a separate back) in a very intelligently designed body aimed at professional outdoor use.  Previous Pentax 645 lenses can be used as well as Pentax 67 lenses with an adapter.  Pentax hasn't been able to build 645D bodies fast enough to even supply the Japanese market thus far, so if you're interested, better get on a wait list now.
Epson's new Stylus Pro 4900 inkjet printer is the long-awaited 17″ model that incorporates the print head and inkset from the vaunted 7900/9900 models.  Building on the features inherent in the original 4000 model, the 4900 will incorporate automating black ink switching, has roll paper capability, uses UltraChrome HDR inks in 200ml cartridges, and has a cut sheet paper cassette for ease of producing multiple prints.  It's big and heavy (nearly 3 feet wide and about 115 pounds) and will be expensive (price not set yet for US), but it will find its way into a lot of serious photographer's digital production workspaces as the new flagship for widest-gamut, highest quality color inkjet printing in the 17-inch format.  See more here and here.
Fujifilm FinePix X100 (see last bulletin).  This new camera isn't expected to ship until early next year, so of course we won't really know how it performs until it gets into the hands of a few serious testers. But conceptually it's a home run, or at least a bases-loaded triple.  One can quibble the fixed lens, but I'd wager many will be perfectly happy with it if it lives up to expectations quality-wise.  The X100, from my perspective, is the closest thing yet to the proverbial perfect serious compact digital camera.
Software update. For those using Photomatix Pro to render high dynamic range images, HDRsoft has just released version 4.0 with a new interface and the ability to explore both Exposure Fusion and Tonemapping after merging your selected images.  For a better explanation of why this is a big plus, see Uwe Steinmueller's discussion at Digital Outback Photo.  The version upgrade is free for those using 3.x.
Little things. Still using AA batteries in your photo devices?  Most flashes use this size, and some camera bodies have provision to use AA's as an alternative power source inside the body or in an add-on grip.  Rechargeables make a lot of sense, especially the newer low self-discharge types like Sanyo eneloop or Maha Imedion that retain their charge much longer when on the shelf or in your bag.  Typically these batteries have had a slightly lower mAh rating than standard NiMh models, but that is inching up.  New Imedions have a 2400 mAh rating, and a new XX eneloop will arrive soon with a rating of 2500 mAh.  I've used both brands with good success and the bit of extra power will be welcome.