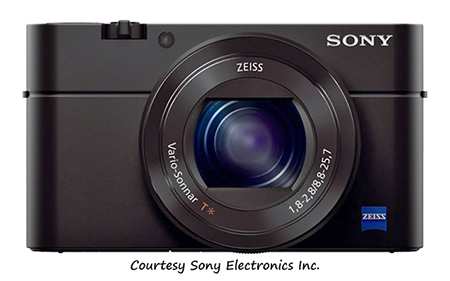 Sony has just released a significant update to their well-respected Cyber-shot RX100 camera which adds features not yet available in any other compact.  Using a relatively large 20.1MP 1"-type sensor, this RX100 III employs a new 24-70mm equivalent focal length F1.8~2.8 Zeiss lens and a pop-up electronic viewfinder.  Read a thorough first impressions review here.  The full feature list is truly amazing for a camera this small.
Finding the "perfect" go-anywhere camera is always a compromise.  One of my personal requirements is the ability to shot RAW.  Another trade-off is simplicity versus complexity.  I've been using a Ricoh GR for some time now and am very pleased with its performance.  The good part is a fixed (28mm equivalent) focal length lens matched to the sensor, and an intelligent menu system.  It doesn't have an EVF, but small slide-in optical eye-level framing devices are available if desired.  Image quality is very good from its APS-C 16.2MP sensor.
As to the new Sony, I expect it will it will gain an even greater following than the previous two versions and will quickly become the digital compact standard-bearer.