Though the vast majority of photographs taken these days are never viewed on other than a small screen, there is still great value in physical prints.  Prints can be defended in practical terms (longevity) as well as artistic (pure aesthetics).  Another aspect is that making prints is simply fun—as well as challenging—and represents an entire additional creative side to the photographic process.
The state of the art of photographic inkjet printing has advanced light years (metaphorically) on all fronts during the last two decades, including the printers, the papers, and the inks that lay down the image.  For those who wish to engage in this endeavor, the choices are vast, curtailed largely by space, budget, and what is intended as the final use for the prints you make.  Information about the history, principles, practice, and art of photographic printing is available in scores of books and other electronic media.
For many enthusiasts, the sweet spot for high quality work is in the range of printers that accept a maximum paper size of 13×19 inches.  While very large prints are lovely to look at, there is also much to recommend smaller sizes.  Prints up to about 12×18 inches fit nicely into a 16×20 inch frame which present very well in many venues.
Among the most important factors in selecting a printer is the type of ink used.  Pigment inks generally have a better longevity forecast and are preferred over dye-based inks for archival purposes.  Printing papers make a big difference too, both in terms of longevity and other physical properties like weight, thickness, surface textures, and the composition of the paper itself.  If you wish to print on thick, heavy-weight papers, select a printer designed to properly feed them.
High-end archival inkjet inks are expensive.  Some printers use larger-capacity cartridges which tend to reduce the overall per-print cost, but you have to do a fair bit of printing to take advantage of that economy.  Keep in mind too that ink cartridges have a limited shelf life—they don't last forever.
Among the top choices in printers that handle 13 inch wide paper is Epson's Stylus Photo R3000.  Using the widest color gamut ink set available in other than Epson's professional line of printers, the R3000 also has high-capacity 25.9 ml cartridges, and it can print on "printable" CD/DVDs, which is a nice extra.  I've been using an R3000 for about a year and have been very pleased with it.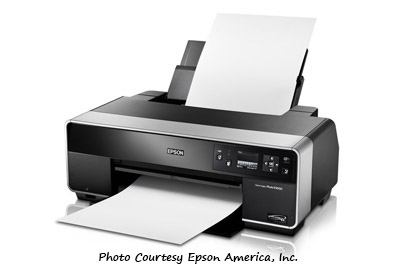 At the moment, Epson is offering a $250 rebate on the R3000.  That's a big discount on a fine 13" printer.