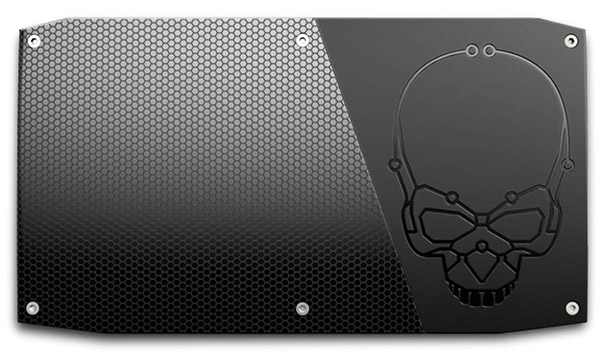 Looking for a tiny Windows computer with enough muscle to process images with speed and efficiency as well as connect with cutting-edge peripherals using the latest protocols?  Intel has one for you.  It's called the NUC6i7KYK, and nicknamed Skull Canyon.
Packed in a space about the size of one and a half 3.5" hard drives, this slim black box contains an Intel Core i7-6770HQ 4-core processor (6th generation Skylake), and Intel Iris Pro Graphics 580, room for two M.2 SSDs, and slots for up to 32 GB of RAM.  Ports include USB 3.0, Thunderbolt 3, and/or USB 3.1 Gen 2 via USB Type-C connector.  The caveat here is that the device is sold as a kit and you need to add storage, memory, and Operating System, which will obviously eliminate it from consideration for some; but all are easy to install, or you can purchase fully assembled kits through third parties.  [By the way, if you're not enamored with the skull depiction on the lid, you can replace it with a plain one which is included in the kit.]
Why the appeal?  Storage for one.  You make the choice, and one option is Samsung's 960 Pro, in capacities up to 2TB—not cheap, but the fastest consumer SSD you can currently buy.  And if your wallet could stand it, room for two (M.2 only—no space for 2.5" SATA drives).  Memory would be kind of a no-brainer—fill to the max with 32 GB.  OS?—Windows 10 Home or Pro.  Keyboard and input device to your taste (Kensington Expert Wired Trackball is still my preference).
The question some might have is graphics—is the integrated variety enough?  Of course that depends; if your demands include using lots of filters or merging huge files maybe so, but this is Intel's top-of-the-line consumer integrated graphics system for the 6th generation processors and should work well for a great many photographers.
So—tiny size, very robust computing power, state-of-the-art connectivity, and an option for the fastest storage currently available at the consumer level.  Tantalizing to be sure.  More than good enough for a primary computer for most, or a superb backup machine in case your big-gun workstation takes a temporary vacation.